Written by Noel Thompson, Director of Global Support at Conosco
Microsoft 365 is the champion of enterprise, cloud-based productivity suites. It offers businesses a multitude of tools, applications and features designed to enhance the user's ability to work, collaborate and communicate.
It is estimated that one in every five employees use Microsoft 365.
Previously known as Office 365 (before the name was changed in April 2020), Microsoft 365 is the latest transformation in the Office franchise which started as a set of popular desktop applications such as Word, Excel and PowerPoint. These familiar productivity apps can still be found as part of the web-based tool along with many other capabilities including:
Exchange Online – which gives employees access to their emails, calendar, tasks and contacts
Online storage and collaboration – SharePoint is often used as a central repository for documentation enabling users to share and collaborate on projects
Communication tools – Such as Skype and Teams which enable instant messaging and video conferencing
A secure management interface – Allowing administrators to set up two-factor authentication and enforce compliance policies.
In this blog, we'll explore some of the key Microsoft 365 benefits including:
Flexibility in the cloud
Remote working
Collaboration
Security
Cost optimisation
Business continuity
Improved communications
Familiar user experience
Flexibility in the cloud
Microsoft 365 is underpinned by a resilient, highly reliable cloud infrastructure. That means there is no need for locally stored servers and legacy infrastructure. By removing physical hardware, businesses can free-up time to focus on more strategic tasks and reduce the day-to-day costs associated with mobility, technology, energy, storage, personnel and compliance.
Many enterprises see as much as a 150% ROI with Microsoft 365.
The other thing to consider is that Microsoft themselves are effectively managing the infrastructure for you – deploying the necessary patches and updates, meaning you will always have the latest version of the tools.
Remote working
The events of the past year have highlighted just how important it is to be able to access documents remotely and give employees the tools to stay productive from home.
Microsoft 365 allows you to store files in the cloud meaning you can access information anywhere, anytime. It is designed to work on many different types of devices including Android Tablets and Phone's, Apple iPad and iPhone, Windows-based laptops, Macs etc. You even have the option of using the applications within a browser, meaning you are not tied to a device and can work just as effectively and securely from a personal machine or an internet café.
It is also possible to work on documents stored within Microsoft 365 without an internet connection, provided you sync your files later once a connection has been re-established. This is ideal for field workers who are used to being on the move.

Collaboration
Live collaboration on documents is a great benefit of Microsoft 365 and is made very easy with tools such as SharePoint. SharePoint enables information to flow seamlessly throughout your business and is a central point of storage for all documentation. Staff can easily share links to documents and work simultaneously with others. Multiple users can edit and update the same file within Office apps such as Word and Excel in real-time and you'll easily be able to identify each user thanks to the coloured flags which appear when they are typing.
SharePoint also integrates with other Microsoft 365 applications. If you are working on a document within Teams there is no need to come out of the app as it will automatically update in OneDrive and SharePoint.
Besides collaboration, SharePoint enables organisations to break free from data silos, improve efficiency and accuracy, as well as deliver better user experiences.
Top Tip: When multiple people are working live on documents it's highly recommended to open them in a browser and not use the traditional application, this ensures that the saving process happens automatically and any changes are captured.
Another collaboration benefit of Microsoft 365 is that users can share their calendars with other employees in your business, allowing them to see when others are available and giving them the freedom to set-up meetings – without the risk of double booking.
Security
Microsoft 365 is built with security in mind. The "backend" of the infrastructure is maintained by Microsoft themselves meaning you get business-class security and compliance as standard. This is a huge benefit when you consider that traditional, on-premise systems are reliant on what a company can afford. For example business will have to be mindful of firewalls; intrusion prevention; denial of service countermeasures etc.
Simple security measures such as Multi-Factor Authentication, whereby your account is linked to another device (usually a mobile number) providing a second level of verification, can also be set-up to secure your Microsoft 365 account. Administrators should consider making it mandatory for employees to set up multi-factor authentication across all business accounts to reduce any vulnerabilities that could leave your business open to brute force attacks.
Of course, there are much more complex security measures that can be put in place depending on your Microsoft 365 plan. Some organisations will choose to work alongside a Managed Service Provider to help them maintain their Microsoft 365 environment.
At Conosco, we provide 24/7/365 IT Support and will proactively monitor your systems ensuring they are backed-up and working at maximum capacity, reducing downtime to a minimum. We also offer a Security Operation Centre, cyber security training and robust software to help you detect and mitigate risk.
Cost Optimisation
Microsoft 365 is paid for as a subscription model. This is in stark contrast to earlier versions of Office products that had to be repurchased and installed every time a new version came out. With Microsoft 365, upgrades are part of the monthly cost meaning you will always be operating with the latest version.
There is a variety of Microsoft 365 licenses and plans from which you can choose, meaning you can optimise the cost based on your business' requirements. You are also able to quickly scale the cost with your user base. When someone joins license usage and associated cost go up, but when someone leaves it goes down. What's more, as you pay on a per user per month basis you can predict your outgoings and budget correctly.
Business Continuity
No matter what happens to your office, internet connection or user's device, all emails, files and data are stored safely within Microsoft 365's resilient cloud infrastructure. Whatever the situation, your team will always be able to access their files remotely meaning your business can continue to operate as usual. When it comes to writing up a Business Continuity plan, Microsoft 365 has a large portion of the strategy already covered.
Another business continuity benefit of Microsoft 365 is built-in file recovery for accidental deletion. Should an employee need to restore a document, an email or their entire inbox it can be done with the click of a button. That means no more wasting time rewriting information or trying to find previous versions.
Some businesses also like to have an additional backup solution for peace of mind. At Conosco, we will create a backup on a separate infrastructure that will allow your business to go back further than the retention period provided by Microsoft.
Improved Communications
Teams is a great tool for communication – it was extremely popular before the pandemic but has since seen incredible growth in its user base. Slack was the leader in this space, but Microsoft Teams has now overtaken them with a reported 115 million active users per day.
Teams is more than just a "chat" platform, its functionality is up there with Zoom and other well-known providers.
Teams features include:
A chat function – This enables individuals, teams and groups to instant message
Teams & Channels – These are conversation boards between teammates
Integration with Sharepoint and OneDrive – All files shared on Teams conversations are automatically saved into a document library folder which can also be accessed via SharePoint online.
Online meetings – That can host up to 10,000 users. Teams enable people from outside the business to join and offer popular features such as scheduling aid and in-meeting chat functionality.
Video conferencing and screen sharing – Employees and clients can collaborate seamlessly via video calls.
Teams also has the option to link your account with a dedicated phone number so that it becomes a basic hosted voice system, although this is not yet as mature as a product like RingCentral.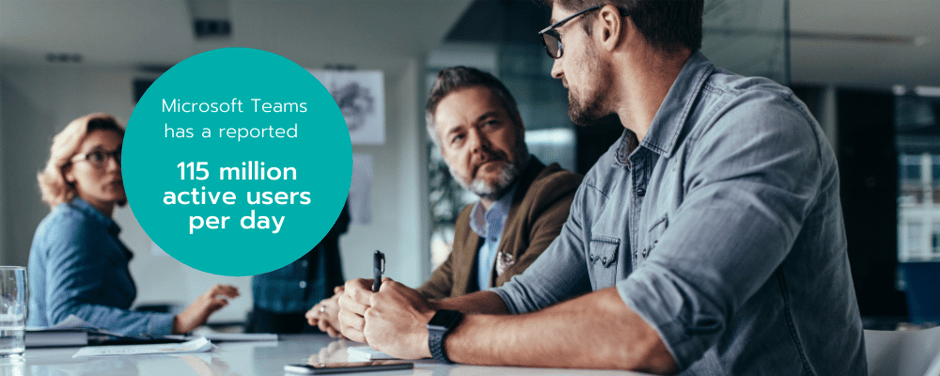 A familiar platform
Change in any organisation is not easy. However, many companies have been using "traditional" Microsoft products for years, and are already familiar with some of the applications. This can be beneficial as it means a transition to Microsoft 365 will have minimal impact on your workforce and is likely to see higher employee adoption rates than other popular platforms.
Similarly, many of us have grown-up using Microsoft Outlook as our chosen email platform for personal use. With Microsoft 365 you have the choice of using the Outlook App or the online version which has a great interface and has converted many hardcore Gmail fans (myself included).
Of course, Outlook is just one of the tools that people are familiar with, other apps such as Word, Excel and PowerPoint remain a popular choice for creating documents.
Other platforms such as Google Workspace, while different in appearance to Microsoft 365, have a similar set of applications. Although it may seem daunting migrating from Google to Microsoft, with a bit of training, employees will quickly get used to a different set of applications and realise that much of the features and functionalities are very similar.
Conosco have recently migrated our environment from Google to Microsoft 365. We understand that infrastructure changes can seem challenging and we are aware of the resistance businesses can face. As a Microsoft Gold Partner, our engineers will help you navigate Microsoft 365 and build an environment that is tailored to your business. We'll also provide the training and support to ensure your staff feel confident using the tools and applications available to them.
Round-Up
There are numerous benefits of Microsoft 365, from productivity gains to greater flexibility and from reduced costs to improved collaboration and communication. Your employees need the right tools and applications to keep your business operational, whether they are working from the office or at home. With Microsoft 365 and the right partner to migrate and support your solution, your team will be equipped with the tools to drive your business forward.
Get in touch with our team to discover more about the benefits of Microsoft 365 and how we can support your solution.