Written by Michael Aldrich, Onsite Support Engineer at Conosco
We all know the feeling, you log into your Microsoft 365 account online and there is an overwhelming list of apps flooding down the left-hand side of the screen with a sea of colour and style, but all you wanted to do was put your Out of Office on. If you find yourself in this boat then you are not alone, according to a Statista 2019 survey 78% of participants indicated they were using Microsoft 365 for access to their emails, but of those same participants, only 14% are using the app Planner.
Previously known as the Office 356 suite, Microsoft 365 used to be a very static download of programs that you would send emails from, create that three hundred thousand rowed spreadsheet that would keep crashing, and show off your groovy PowerPoint transition skills. However, it has since gone through a couple of evolutions to become a productivity powerhouse with multiple different apps. Microsoft sells itself big on coexisting integration, all the apps have a familiar feel and many are connected meaning colleagues can collaborate easily across platforms. Not to mention if you have the correct license then they are all included within your subscription.
In this blog, we take a look at five Microsoft 365 apps that often go overlooked but are game-changers for productivity.
MyAnalytics
With many of us working from home, wellbeing has become a buzzword within the corporate world. Whilst many may feel their work-life balance has improved, some employers are worried about staff becoming overworked and burning out. Cue MyAnalytics, the app all about you, split into four key areas; Focus, Wellbeing, Network & Collaboration. By tracking data from your calendar and emails the app presents you with a dashboard that is designed to show you how your time is broken down in order to help you optimise your activities and become more efficient.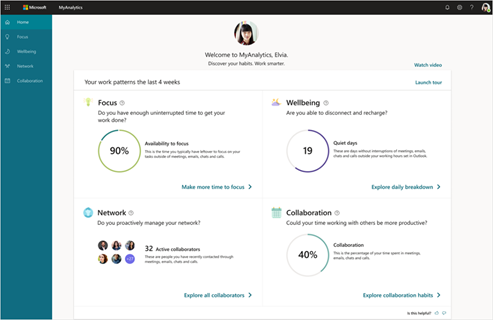 Focus – This section allows you to see how much of your time is spent focusing on tasks without any distraction. To track this data, MyAnalytics will identify and remove "Collaboration" time, such as meetings booked in your calendar as well as any time spent on calls and responding to emails.
Wellbeing – This keeps a tab on how many hours outside of your normal working day that you are spent logged in to Microsoft 365. Responding to work emails or regularly checking notifications will contribute to you losing one of your quiet days. Employees that do this regularly may eventually suffer from burnout which will ultimately harm productivity and crucially impact employee satisfaction.
Network – is a useful way to see who you are spending the most time interacting with and potentially give you a nudge to reach out to others in your organisation that you perhaps don't speak to as often as you should. This can be a particularly handy tool for managers who want to ensure they are speaking with and engaging all members of their team.
Collaboration – allows you to check how long you are spending in meetings, on calls and responding to emails. It is a useful evaluation to see if you are not getting enough heads down hours with your bread & butter work.
Benefits of MyAnalytics:
By understanding how you are spending your time, you will be able to
Build better habits for more productive hours
Receive recommendations on improving workflows
Better understand your working patterns
Give yourself time to relax and unwind
Use actionable insight to ensure that you are balancing collaboration time with focus time
Whiteboard
Are you missing the boardroom whiteboard? There is nothing quite like getting the team together for a good brainstorming session to help employees express their ideas and collaborate on new initiatives. But how do you continue to give your employees a similar experience virtually?
Microsoft Whiteboard allows you to recreate that experience with some added features. Like a physical whiteboard, users can choose from a selection of colourful pens and start scribbling away. With the Ink Beautification feature, even the most untidy handwriting can be turned into a beautiful font of your choice which is much more readable.
Other great tools that wouldn't come with the standard office whiteboard, include the ability to attach documents and images as well as post-it notes. Best of all you can easily save and share the whiteboard with your team and continue to add to it at a later date.
Benefits of Microsoft Whiteboard:
Easy to use, intuitive whiteboard features
Share within Microsoft Teams for easy collaboration
Visualise ideas and work creatively with a variety of templates to choose from
Make training more fun by drawing out concepts
Planner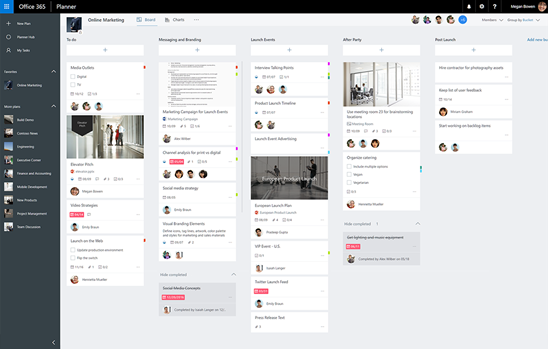 If you're searching for a project management tool, look no further than Microsoft Planner. The app is built to help you manage your team and organise your tasks. It enables users to set deadlines as well as share files, exchange ideas and establish expectations.
The app is designed to guide users through the crucial steps of good project management. From the creation of your team to building a list of tasks (a Plan) and from allocating work to receiving progress reports, it will allow you to keep your projects on track.
Benefits of Microsoft Planner:
Invite external guests even if they don't have Microsoft 365 (i.e. third-party vendors or agencies)
Integrates with other apps such as Microsoft Teams and SharePoint
Easy management of your team's workload
Automate repetitive tasks with the Planner API
Power Automate
A recent study by McKinsey found that 45% of paid activities can already be automated by today's technology. As many businesses look for ways to improve efficiency and streamline their processes, Microsoft has created an application to help businesses get a head start. Microsoft Power Automate empowers employees to build secure workflows that remove manual, repetitive and time-consuming tasks, freeing them to focus on more strategic work.
Designed to be used by all areas of the business, from your IT pros to your technophobes, Power Automate uses a simple drag and drop functionality to create 'flows'. The 'Process Advisor' also provides recommendations on what to automate and how to improve your flows to boost efficiency. And for those that require more advanced automation, the 'AI builder' enhances workflows by allowing you to automate processes that include forms, imagery or specific text.
Benefits of Microsoft Power Automate:
By automating simple tasks businesses can improve accuracy. According to Forrester, 27.4% of businesses reduced errors due to increased automation
Enable employees to spend their time more productively by automating mundane tasks
Integrate Power Automate with Microsoft Teams for more efficient collaboration
Use templates to create predefined flows
Automate tasks across hundreds of apps including Mailchimp, Twitter, Power BI, SharePoint, Adobe, Google drive etc.
Sway
Microsoft Sway is the ultimate app for creating a variety of interactive business documents such as presentations, reports, newsletters or proposals. With its built-in design engine, it makes formatting easy, giving you a sleek, professional feel without the need to bother your marketing department. Users can simply add all of the relevant elements to the document such as text, images, videos or links and Sway will do the rest.
Hosted via the internet any documents you create will have a dynamic feel allowing you to bring your concepts to life. What's more, your Sway can be easily shared with colleagues, partners, clients or friends without the need to download anything.
Benefits of Microsoft Sway:
Easily customise your content making it more interactive and interesting to read
Create and share your Sway anytime anywhere – your presentations will all be saved in the cloud.
Give others access rights and work collaboratively on the document
Get analytics on your presentations as part of your Microsoft 365 subscription
The Microsoft 365 suite offers many great apps, features and integrations. By encouraging your staff to adopt the technology and by training them on key applications you'll find that there is so much more that you can do with your investment.
As a Microsoft Gold Partner, our experts will migrate and support your Microsoft 365 environment and advise you on the applications and tools you can use to transform your business.