Written by Russell Hallam, Business Development Manager at Conosco
Digital Transformation in the public sector has accelerated across the world as a direct response to the pandemic. Whilst many tech-savvy government employees are keen to keep their foot on the gas pedal, the introduction of innovative technology presents new challenges, opportunities, and benefits.
Any Digital Transformation project needs to be strategically researched, planned, and driven by a motivated and engaged leadership team.
In the public sector where there are budgetary constraints, legacy systems and resources are tight, the need for a well-thought-out IT strategy that aligns with business and public objectives is crucial.
In a study by Deloitte, 96% of respondents said digital technologies are significantly disrupting the public sector.
Whilst some predict a return to austerity to combat the large amount of government spending on Covid-19 stimulus packages and worldwide economic downturn, others are eager to see the UK government continue to digitise.
There are two main reasons for this:
1. Improved employee experiences
The rapid shift to remote working saw public sector organisations update legacy infrastructure to support a mobile workforce. This led to greater accessibility, improved processes, better collaboration, and more streamlined user experiences.
However, the rush to digitise meant shortcuts were taken which now need to be addressed. For example, organisations will need to focus on potential security vulnerabilities and look at ways to support long-term remote working by improving the efficiency of the systems put in place.
2. Improved public services
The public is used to using online services daily. From online shopping and banking to streaming films and connecting via social media, people have come to expect instant gratification, faster service, and better quality experiences.
One of the biggest challenges facing the public sector is how to create a service that caters to the needs of a diverse public. If they are to engage and communicate with the population, they will need to improve customer-facing services, ensuring they are secure, easy-to-use, and sustainable.
In this blog, we'll explore the unique challenges of Digital Transformation in the public sector and the benefits of getting it right.

What is Digital Transformation?
Digital Transformation is the continuous improvement and the integration of new technologies, allowing businesses to transform operations and services by replacing outdated systems and manual processes.
That said, whilst introducing new technology can help drive Digital Transformation it is important for businesses to take a holistic view of their IT estate. In many circumstances, current IT infrastructure can be used more effectively and processes can be optimised leading to greater efficiency and modernisation at a fraction of the cost of starting from scratch.
The Challenges of Digital Transformation in the Public Sector
The public sector is responsible for a wide range of services – NHS healthcare, education, social housing, and transport infrastructure to name a few. Each of these sub-sectors will have its own set of objectives but all face similar challenges including:
1) Unclear/ Undefined IT strategy
2) Outdated Infrastructure
3) Cost-effective procurement
4) Data Silos & Business Intelligences
5) Inclusivity
6) Skills gap
7) Lack of agility and flexibility
8) Employee adoption
Unclear/ Undefined IT Strategy
Successful Digital Transformation isn't just about technology it requires organisations to take a critical look at:
● How employees work
● How they deliver services to the public
● How information flows throughout the business
● How data is handled and stored
70% of Digital Transformation projects fail due to a lack of planning.
Without a succinct IT strategy and a clear grasp of how your people, technology, processes and services work, you risk implementing solutions that are unnecessary and do not meet the requirements of your users. In the public sector where taxpayers' money must be accounted for, careful consideration should be given to any new technology investments.
A clearly defined IT strategy will help public sector organisations identify the technological and operational gaps whilst also considering improvements that can be made to the current infrastructure. The main goal of Digital Transformation in the public sector is to implement a dynamic IT system that integrates customer-facing services with automated back-end processes and critical applications.
Outdated Infrastructure
With the likes of Amazon, Google and Facebook providing fast interactions and accessible online services, people have come to expect high-quality experiences. But how can you meet public demand when legacy technology is holding you back?
Although the pandemic has sped up the transition to the cloud, many public sector organisations are still reliant on business-critical, on-premise infrastructure which doesn't lend itself to integration with more agile cloud solutions. Being trapped by existing technology only leads to inefficiency, downtime and increased spend, as systems begin to fail and no longer meet the user requirements.
The public sector must address this issue in order to drive change. By taking a digital first-approach and working alongside Digital Transformation consultants it doesn't have to be such a daunting task. At Conosco, our cloud migration experts will work with you to integrate your existing applications or if needed seamlessly transition your environment to a more manageable and secure platform.
There is a common misconception with Digital Transformation that it has to be done in 'one big hit'. Instead, businesses should 'salami slice' their migration to the Cloud.

Anders Reeves, CEO at Conosco
Cost-effective procurement
According to Deloitte, 79% of government organisations find digital procurement to be a challenge.
Finding the right partner who can provide leadership and consultancy as well as project management and specialised skills can be expensive and there is no way to guarantee your Digital Transformation initiative will be a success.
Government frameworks such as G-Cloud 12 and Digital Outcomes Specialist have been put in place to help the public sector find accredited and trustworthy suppliers. They have been designed to accelerate the government's digital innovation by enabling them to overcome resourcing, availability, and commercial constraints.
When it comes to procurement, there is a lot to think about but with the help of an approved public sector provider organisations receive high-quality solutions at great value.
Conosco's G-Cloud 12 services include:
Enterprise Mobility Management (EMM) / Mobile Device Management (MDM)
NFON Hosted Telephony (VoIP)
Wandera Secure Mobile Gateway
Business Continuity & Disaster Recovery Strategy & Simulations
Cloud Architecture, Migration & Transition Services
Cloud MFA/2FA Consultancy, Implementation and Management Services
Cloud Strategy and Product Selection Services
ISO 27001 Consultancy, Certification & Retention
ISO 9001 Consultancy, Implementation & Retention
Managed Cyber Security Operations Centre (SOC)
Managed Outsourced IT Support Desk Services (Helpdesk)
Penetration Test Remediation
Security Awareness and Training Services
Service Security and Supplier SLA Auditing
Data Silos & Business Intelligence
The public sector holds a variety of sensitive customer data. The ability to share this information is important as it helps drive business decisions and can be a useful tool for Digital Transformation. For example, the opportunities presented by AI and machine learning could see public services become sleeker and more personalised.
Breaking down data silos is a key challenge of Digital Transformation in the public sector. Organisations need to use data to understand the demographics of the public so that they can tailor their services correctly. They also need to ensure that data management is happening in a secure and compliant manner. The public sector comes under scrutiny, any mishandling of information or any security vulnerabilities in the systems used to store and manage information could lead to public mistrust.
Working alongside an accredited IT services partner (such as Conosco) can go some way to easing concerns. Things to look out for when choosing a partner:
ISO 9001 certification – This is the international standard for quality management. An organisation with ISO 9001 certification has proven its commitment to providing quality services
ISO 27001 certification – An IT provider that has achieved ISO 27001 certification has demonstrated its commitment to security. They will be able to advise you on data protection and security best practices and will ensure any solution you implement is secure by design.
C-level leadership – Look for a partner that provides strategic consultancy and can help you collect, analyse and transform your data into actionable business intelligence. A vCIO or vCTO service can be helpful as it gives your business c-level leadership.
Inclusivity
Building services for a demographically diverse population is challenging. Before the public sector invests in Digital Transformation they must consider the target audience and ensure that the service they are implementing offers the correct level of detail and functionality to effectively resolve the users' issue/requirement.
For example, the needs of an elderly person accessing state pension information online is in direct opposition to a student looking for government-backed apprenticeship schemes.
Any IT project must be carefully thought out and researched to be as inclusive yet personalised as possible. As mentioned above a clear IT strategy will support your Digital Transformation plans by highlighting the pain points and ensuring your investment has a purpose. There is no point in investing in digital solutions if the public need is not there.
By working with a partner that takes a user-focussed approach you will be able to:
Create clear and accessible services
Cater to the specific needs of your audience
Improve the user experience
Increase public engagement
Build a more secure service that users trust
Receive greater return on investment
Skills-Gap
Maintaining bad processes and accepting legacy systems is detrimental to Digital Transformation. All too often people will "make do" with the current systems due to a lack of internal resources and expertise to drive real-change.
40% of public sector organisations do not have the in-house skills to adapt to Digital Transformation.
Working with an IT provider (such as Conosco) can help you bridge the IT skills gap. It gives organisations access to a whole team of people with specialist knowledge and experience at a fraction of the cost of hiring staff. It also gives you the resources to progress projects at speed.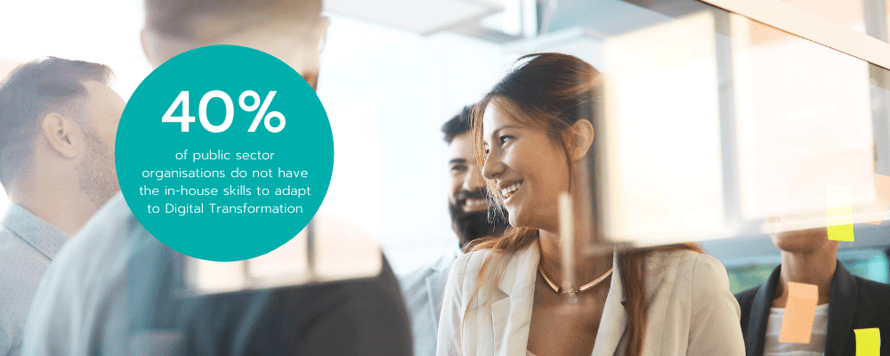 Agility and Flexibility
The pressure on the public sector to modernise, economise and become more sustainable is growing. With a shift to long term remote working as a direct result of the pandemic, many organisations have adapted their business models to suit a more flexible and agile mobile workforce. This has enabled greater cost savings, improved work/ life balance, and promoted faster innovation.
In the UK many are enthusiastic about the increasing rate of government Digital Transformation calling it 'Gov2.0'. With emerging technologies facilitating flexible distributed working, people can collaborate like never before. If the government are to continue to provide excellent services to the public they will need to take a critical look at their communication systems and look for new ways to enable cross-sector collaboration, integrating systems where possible and ensuring robust security.
Employee Adoption
One of the biggest barriers to Digital Transformation in the public sector is company culture. Digital maturity is reliant on strong leadership and a work environment that is open to change and willing to embrace new technology.
To successfully drive Digital Transformation, public sector organisations will need to foster a digital-first approach led top-down. All businesses need to keep their employees abreast of new technology initiatives. From strategy to implementation chances are any changes you make will directly impact processes and in most cases will require employees to be trained. Ensuring employees are involved in Digital Transformation from the start will improve employee adoption rates and enable you to maximise the capabilities of the new technology.
How can Conosco Assist you with Digital Transformation?
Conosco provides dedicated IT services for the public sector including IT strategy consultancy, cloud migration and computing (via the G-Cloud 12 framework), cyber and information security services, unified communication solutions and 24/7/365 IT support.
Undertaking Digital Transformation can be daunting but with the support of our virtual CIO and virtual CTO, we'll help you build an IT strategy that aligns with your business objectives. We'll modernise your systems and lay the foundations for a future-proofed IT estate that offers opportunities for automation and data-driven business intelligence.
Our goal is to ensure information flows throughout your business and provides tangible results, ultimately increasing revenue and reducing costs. Some of the key activities that we undertake for our clients.
Create and continually align your IT Roadmap to business needs
Deliver strategic technology audits and reviews
Advice on best practice and what is possible
Plan and manage IT budgets
Robust selection of systems and suppliers
Relationship management and guiding supplier roadmaps
Direct and manage system implementation
Provide oversight on IT service delivery
Information Security best practice
Round-Up
Digital Transformation isn't something a business does once and then never revisits – it is an ongoing commitment. The digital landscape is changing constantly, with cutting-edge technology enabling us to have better online experiences, stay connected and be more productive than ever before.
Choosing the right partner that can guide you through technology changes and advise you on the best way to modernise your business can offer a host of benefits for the public sector such as:
Future-proofed functionality
Enhanced remote working capabilities
Improved public engagement
Data-driven business insights
Cost efficiency
Robust security
If you're looking for support on your journey through Digital Transformation, get in touch with our team.