Migrating an on-premise infrastructure to the cloud is no small task. There's data storage to think about, migration of software, and entire processes that need to be reconfigured.
According to a survey by IDG 62% of organisations claim their IT environment is either "all or mostly on-prem". Yet by the end of 2021 59% of companies want to be "on-cloud". So how can businesses ensure their cloud migration strategy is successful? What can you do to guarantee you build an IT infrastructure that's future-proof and aligned with your business objectives?
We've put together our 10 step migrating to the cloud checklist.
Define your cloud migration strategy

Create an inventory of your current digital estate

Establish KPIs and desired outcomes

Decide on the cloud environment

Understand the costs

Choose a Cloud Service Provider

Choose a level of cloud integration

Keep the rest of the business informed

Update your security and compliance policy

Continuously review and improve the strategy
Step 1: Define your Cloud Migration Strategy
Benjamin Franklin once said, "By failing to prepare, you are preparing to fail." The strategy is the backbone of any project. Without a cloud migration strategy, you will have a lack of direction, unclear goals and objectives, and you risk wasting time, money and resources. In fact, one study showed that 73% of digital transformation projects fail due to a lack of motivation and up-front commitment.
So, what should your Cloud Migration Strategy include? The following questions will help you form the basis of your strategy:
What is your motivation for moving to the cloud? (Perhaps you are trying to modernise your IT infrastructure, introduce new services, scale your business)

What are the key goals and objectives?

What resources and knowledge do you have in-house to ensure your project is successful?

Will you need to hire additional resources or work with a third party?

Who will lead your efforts and take responsibility for the delivery of the project? (You will need to define your cloud migration team and allocate roles accordingly)

What challenges might you come up against?

Do you understand your current digital estate?

What data do you need to prioritise?

What budget have you allocated?

What time frame do you need to do this within?

Do you have a preferred cloud service provider? (AWS, Azure, Google, etc.)

What is the right cloud model for your business?
Your strategy defines the why, how, who, when, and what of your cloud migration. It lays the foundation for successful digital transformation, gives your team the confidence that you are working towards a combined goal, and ensures that you are ready to maximise the benefits of the cloud. It essentially justifies every step that you take from here on out.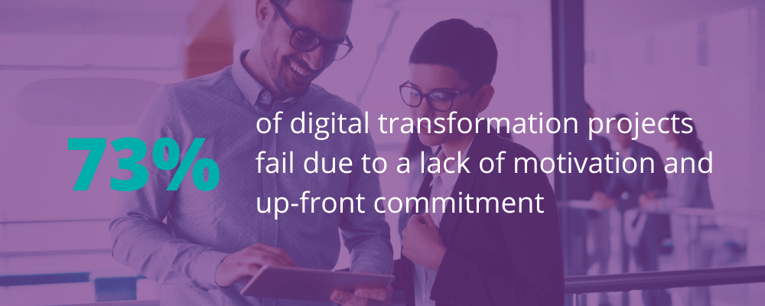 Step 2: Create an inventory of your current digital estate
One of the biggest hurdles organisations need to overcome when migrating to the cloud is understanding what data, processes, software, systems, and workflows they have. They then need to decipher what needs to be migrated to the cloud as a priority and what needs to remain on-premise (if anything). It also gives businesses the opportunity to take a critical look at legacy processes and decide whether they are still fit-for-purpose or whether a more efficient cloud alternative can be found.
Here are some questions to consider when creating a digital inventory:
What are your business data entry points?

Where is data currently stored throughout your business?

What departments have siloed information?

What is the flow of information like throughout your business?

Are there gaps in collaboration?

Are you able to sufficiently report on data?
It's likely that at this stage you will identify challenges and pain points i.e. there may be some legacy software that can not be moved to the cloud and requires additional resources and modifications. It's vital you address these challenges upfront and develop your Cloud Migration Strategy to accommodate.
Step 3: Establish KPIs and desired outcomes
Your IT Strategy needs to align with your overall business objectives and vision for the future. Think carefully about how you would like the cloud to enhance your business and what the desired outcomes should be. By establishing Key Performance Indicators (KPIs) upfront, you will be able to measure the performance and impact that cloud services have on your business.
The KPIs you define will allow you to determine when the cloud migration project is complete and if it is a success. They should be referred to regularly throughout the migration as a way of ensuring you are making the right progress. Your KPIs will quickly highlight visible or invisible problems so that you can remediate any issues and get things back on track quickly.
Here are some of our top cloud migration KPIs that you can track:
User experience – response times, session times, page loading time

Disruption – downtime

Infrastructure – memory usage, network throughput

Application Performance – error rates, availability

Cost Savings

Productivity improvements
Step 4: Decide on a cloud environment
An important step in the cloud migration checklist is deciding on the right cloud environment for your business. At this stage, you will need to consider the type of data you handle and the level of control you need over your systems. For example, if you process highly sensitive information you may want to consider using a private cloud model. If you have mission-critical workloads but also require the flexibility to scale you may opt for a hybrid cloud solution.
There are 4 different cloud environments for you to consider:
Public Cloud – this is the most common type of cloud service. Cloud servers and storage are owned by a third party cloud provider and delivered over the internet. The customer does not need to buy any hardware, software, or infrastructure as this is owned and managed by the cloud provider. Whilst the public cloud has many advantages including, reduced costs, no maintenance, and unlimited scalability, 75% are still 'very concerned' about public cloud security.
Private Cloud – this is a cloud environment that is used exclusively by one organisation. A private cloud can be hosted by a third-party cloud provider or can be physically located in an onsite data centre. All hardware and software are dedicated to your organisation and are maintained on a private network. This is the right option for your business if you require more control and privacy, and more flexibility to tailor your cloud environment.
Hybrid Cloud – this is fast becoming a popular choice for businesses that require on-premise infrastructure as well as private or public cloud capabilities. Data and apps are able to move between the two cloud environments. Organisations that opt for hybrid cloud solutions are usually operating within a highly regulated industry that requires information to stay on-premise, but also need the flexibility to increase their infrastructure capacity to allow for any overflow.
Multi-Cloud – this refers to a mixture of two or more public clouds. According to a report by Flexera, 93% of surveyed enterprises have a multi-cloud strategy. Many organisations prefer the flexibility of a multi-cloud solution as it avoids vendor-lock in and gives businesses the ability to easily shift their services to another platform should one fail.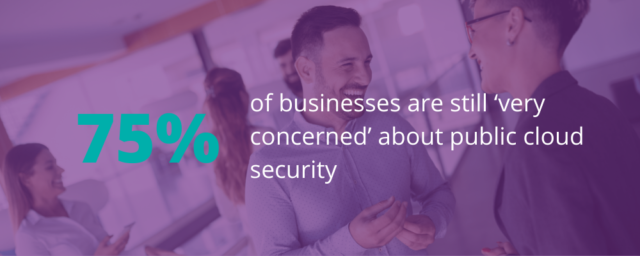 Step 5: Understand the costs of cloud migration
With on-premise IT infrastructure, all equipment and software are paid for upfront and all storage, management, upgrades and maintenance must be provided by your IT team. Alternatively, by transitioning to the cloud you move to a subscription model whereby you pay on a monthly or annual basis.
Many organisations prefer the cost savings that come with the cloud. In fact, nearly 80% [of surveyed IT pros] said they're saving money, seeing more productivity and better security. The cloud removes the hardware expense and the cost of IT staffing. What's more, any hardware upgrades are the responsibility of the cloud provider meaning you are not stuck with outdated technology and technical debt.
Conversely, cloud migration does present some budgeting challenges. For example, organisations need to plan for network and bandwidth costs, the time needed for strategic consultation, and the cost of outsourcing cloud specialists to help with data back-up and migration. It's also worth doing your research on cloud providers as each of them offers different cost levels based on the type of cloud environment, storage requirements and applications you use. AWS CloudWatch and Microsoft Azure Pricing Calculator can be used to help track costs but are not always accurate.
Step 6: Choose a Cloud Service Provider
With a clearly defined strategy and an understanding of your cloud environment and budget, you are ready to start the next step in our migrating to the cloud checklist – choosing your cloud service provider. AWS, Azure and Google are the top three choices for public cloud. Combined they take up over half of the total cloud market share; AWS has the biggest share (31%), followed by Microsoft Azure (20%) and then Google (6%).
Whilst they offer similar features such as self-service, instant provisioning, auto-scaling and identity management, there are some fundamental differences that you should look out for including:
Pricing structure

Depth of services and applications

Computing power

Security levels

Compliance features

Support
Though your cloud migration strategy will go some way to helping you identify a cloud provider, often businesses choose to appoint an IT Managed Service company to help make the final decision and implement the migration. Managed Service Providers that specialise in cloud platforms will have the in-depth knowledge and expertise to ensure you are using the right cloud model and have the correct storage capacity and applications to thrive in the cloud.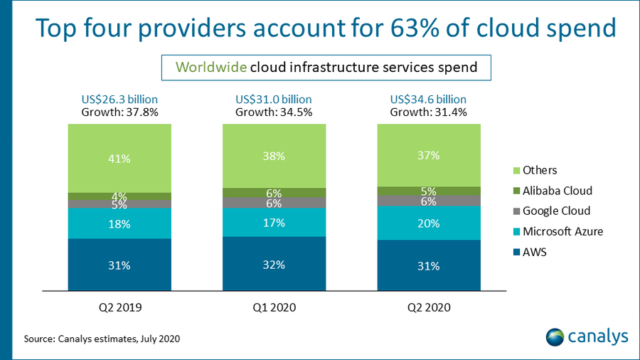 Step 7: Choose a level of cloud integration
After deciding on a Cloud Provider you'll be in a far better position to plan out what data and components need to be migrated first and how you will integrate them. There are two ways to migrate to the cloud – shallow cloud integration (lift-and-shift) and deep cloud integration.
Shallow cloud integration

refers to moving on-premise applications to the cloud and making little to no changes to the servers and infrastructure. There may be small application changes enabling it to run in a new cloud environment but there is no use of other cloud-native services.

Deep cloud integration

is when the business modifies the IT infrastructure during the migration process taking advantage of key cloud features and capabilities. This might be as simple as using auto-scaling or it could be as advanced as serverless computing.
Step 8: Keep the rest of the business informed
Once you've invested in the cloud you will want to ensure that your employees fully adopt it, maximise its capabilities and use it in the most efficient way. Your dedicated cloud migration team is responsible for driving the migration project forward, however, your senior leadership team needs to promote the new technology to the rest of the business. Providing frequent updates, keeping employees abreast of changes, and ensuring they are aware of the benefits, will keep them engaged and receptive to digital transformation.
Without a doubt, deploying new systems and processes will likely cause some downtime. If done properly this can be kept to a minimum, but employees must be made aware so that they can prepare if needed.
Step 9: Update your security and compliance policies
Strong cybersecurity governance is an essential step on our migrating to the cloud checklist and should never be underestimated. As you shift your IT infrastructure from on-premise to the cloud the policies that you had in place before will need to be adapted to your new environment. If you choose to host your data in the public cloud, you are putting a lot of trust in the cloud provider. Whilst AWS and Azure have built their cloud services to be secure by design it's still important for businesses to be vigilant and plan ahead for potential breaches, failovers and disaster recovery.
In these instances, organisations should consider working with ISO 27001 and Cyber Essentials certified Managed Service Providers, who are best positioned to ensure the integrity of your data.
Step 10: Continuously review and improve the strategy
No doubt you've heard the term 'agile working' countless times. With technology evolving rapidly, businesses that continually review their IT strategy and take an agile approach to digital transformation are better positioned to adapt to the modern workforce. As our 10 step migrating to the cloud checklist shows, you'll have a variety of decisions to make and may encounter challenges as you migrate to the cloud. Your aptitude to remain flexible and pivot as needed will greatly impact the delivery and success of your project.
Even once the migration is complete businesses need to constantly monitor the usage of their resources to further optimise their IT environment and provide cost-efficiency.
Bonus: Our top 5 tips for successful cloud migration
1) Be clear about why you are moving to the cloud
This may seem like an obvious one, but it's surprising how often new 'trending' technology is deployed only to fall short of user expectations. In 2018 $1.3 trillion was spent on digital transformation, of that an estimated $900 billion of these initiatives didn't meet their intended goals.
Think about your reasons for migrating and address the challenges of moving to the cloud. Understand exactly what it is you want to accomplish. Whether you're trying to reduce costs or innovate faster, there are plenty of benefits for adopting the cloud, but only by thinking strategically can you ensure the best outcomes for your business.
2) Understand your data
It's estimated that humans produce an incredible 2.5 Quintillion Bytes of data every day. From transactional data to content downloads, businesses are constantly capturing, storing and analysing huge amounts of information.
But, just because your business has lots of data, doesn't mean it all belongs in the cloud. Before you start any migration project, begin by doing a data audit and map out all avenues where information enters your business. Depending on your business model, you'll then need to decide which data should remain on-premise and which should be exclusively cloud.
3) Use it as an opportunity to streamline processes
Cloud migration is the perfect opportunity to reassess and rebuild your IT infrastructure. Poor data management, uncoordinated workflows and inefficient processes are the biggest barriers to any digital transformation project. View your move to the cloud as a clean slate. Streamline and optimise legacy processes and automate where possible. By laying the correct foundations at the start, your business will have the flexibility to grow and scale with ease further down the line.
4) Migrate in stages
There is often a misconception that migrating to the cloud needs to be done in 'one big hit'. In fact, the opposite is true, you need to 'salami slice' your migration. Some businesses have complex IT infrastructures and a variety of data to migrate. As with any new piece of technology you'll want to familiarise yourself with the features and functionalities before you tackle big projects.
Once you've understood your data (see point 2) you'll be in a better position to decide what is non-essential and what is business-critical. Start by migrating the non-essential data, that way if anything goes wrong your business will not be impacted.
5) Work with experts
Your IT infrastructure is the backbone of your business. You need to guarantee that any transition to new technology causes minimal downtime and data integrity is protected. Working with Conosco's specialist cloud migration team will give you the confidence that your systems are in safe hands. We'll ensure you have the right model, storage capacity, strategy and support to successfully migrate you to the cloud.
Round-up
Migrating an enterprise's IT infrastructure to the cloud includes an extensive list of considerations. Sensitive data and business-critical operations need to be carefully migrated with the utmost regard for security and business continuity. Any downtime or problems can cause inefficiencies and impact a business's bottom line.
Yet the benefits of successful cloud migration are numerous and with the right guidance and expertise cloud applications can open up opportunities for business growth, new lines of revenue, improved customer experiences and operational efficiencies.
Here are some key takeaways from our 10 step migrating to the cloud checklist.
Your Cloud Migration strategy should define the who, what, when, where and how of your project. Only by having a strategy can you work towards a successful cloud migration

Understand your data, processes, workflows and technology and how your people interact with them

KPIs enable your business to track performance and measure success

Choose a cloud environment that's right for your business model

Be aware of the costs of cloud migration and the different pricing structures offered by cloud providers.

Think carefully about how you want to integrate your cloud environment do you want to do a shallow cloud integration or a deep cloud integration

Ensure your employees are informed about changes you are making and the benefits of digital transformation

Update your security and compliance governance so that it aligns with your new cloud infrastructure

Remain agile and continually improve your technology strategy