Written by Noel Thompson, Director of Global Support at Conosco
Gone are the days of the traditional Monday to Friday, 9 to 5 office hours. With employees working flexibly and remote working technology enabling users to collaborate from anywhere in the world, the need for 24/7 IT Support has never been more important.
With millennials accounting for around 35% of the UK workforce and the rise in globalisation, businesses need to operate 24 hours globally to remain competitive. Customers have come to expect on-demand services and immediate gratification, any IT failure or system downtime can have a negative impact on your customer's experience and your brand.
Many organisations are turning to 24/7 IT support providers to guarantee business continuity and a fast response should an issue occur. But how can you ensure you choose the right provider and what sets a true 24/7 IT support operator apart from the rest?
What is true 24/7 IT support?
24/7 IT support gives you the ability to access support 24 hours a day 365 days a year. From data backups to the proactive monitoring of your environment, and from upgrades to onsite support engineers, the right IT support provider will give you the confidence that your IT estate is professionally managed, thereby empowering your people to work efficiently and ensuring information flows across your business.
But beware, there is a difference between "true" 24/7 IT support and those that claim to do it.
How do I know it's 24/7 IT support?
These are a few questions to ask when searching for a 24/7 IT service:
How many staff operate your helpdesk and what is a typical shift?
Your IT support helpdesk is responsible for maintaining operational flow, dealing with user issues, identifying and preventing any recurring system errors, and providing your business with the expertise to reduce costs and improve productivity. They are often the initial point of contact if an IT issue occurs.
IT support providers offering a 24/7 service must ensure they have the helpdesk resources to cover 24 hours. At a minimum, your provider will need enough employees for three separate 8-hour shifts, but of course, many more than this is needed when covering multiple time zones, and ample overflow cover must be available to accommodate an increase in requests.
Whilst most providers offer a reliable and trustworthy service, it's not uncommon for businesses to be stung by providers who claim to operate a 24-hour helpdesk, but in reality, outsource this function to a call centre.
If your provider doesn't have the staffing levels to cope customer service may suffer.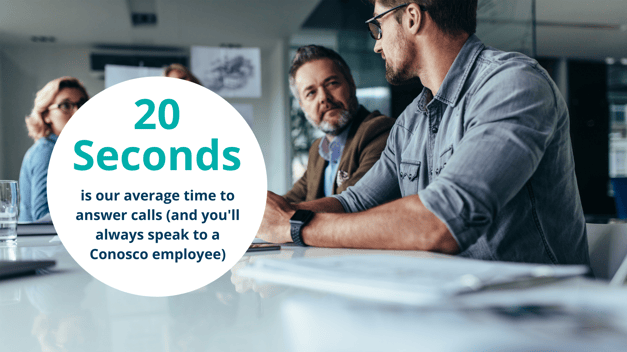 2. What is the escalation process should my issue need further support?
In most instances, the IT support helpdesk or remote response team will be able to fix your issue but on some occasions, engineers will need to visit your location. Understanding the escalation process will give you a deeper insight into how effective your support will be. At Conosco we operate a first response team (helpdesk), escalations team, field engineers and onsite IT support. We also work with you to come up with agreed SLAs that align with your business's objectives.
When searching for a 24/7 IT support provider make sure they have dedicated escalations points for the engineers on shift to call should they come across an issue that they are not able to deal with. They will need to respond quickly and confidently and meet your agreed SLAs (service level agreements).
Your IT support provider should have a dedicated team of people, not just a single engineer that receives calls in the middle of the night and is expected to deal with any number of issues.
3. What is the cost of a 24/7 IT support service?
Many organisations use outsourced IT providers as a way to reduce costs that would otherwise be spent on hiring full-time employees. 24/7 IT support gives employees round-the-clock access to IT experts – open as many cases as you need for any IT-related issue, with no restrictions or time limitations.
However, the cost of this service can be complicated and vary, some providers will add a hefty charge for any work done out of hours, whilst others will have to hire more employees to accommodate which will have a knock-on effect to you – the customer. Ensure you fully understand the cost implications of 24-hour support before committing to a supplier.
There are many providers (such as Conosco) who deliver 24/7 IT support as standard meaning you don't pay extra for services performed out of traditional hours. This can be a huge benefit for global enterprises managing multiple timezones.
4. Have you got any references/ case studies/ testimonials?
Customer service is king – outstanding service can turn customers into loyal brand advocates. One study showed that 92% of B2B buyers are more likely to purchase after reading a trusted review.
With no affiliation to your business, customers will be open and honest about your service making them the most reliable source when searching for any new partnership. If your chosen IT Support provider isn't upfront about handing over testimonials, case studies and references chances are there's something not right about the service.
You can find some of Conosco's case studies here.
We are so utterly reliant on our IT working it's a nightmare when it fails. That so rarely happens now and if it does I know it'll get fixed promptly. Conosco has been an outstanding partner right from the beginning and I genuinely can't recommend them highly enough and there aren't many other businesses I would say that about!

Rupert Crowfoot

, CEO at Six Physio
5. Do you provide support over the holiday period?
By definition 24/7 IT support means you provide services 365 days a year – no time off over the holidays and constant management even during quiet periods. The right provider will have the appropriate resources and expertise available to support you all year round.
Some providers (such as Conosco) will also provide onsite IT support services during holiday seasons such as Christmas – a period when many businesses operate a skeleton team. Having the option to outsource this capability assures businesses that IT systems will not fail and operations can continue to function uninterrupted whilst key staff members are away.
6. Do you have the expertise to deal with ABC technology/system/software?
24/7 IT support isn't just about managing and maintaining systems, it also requires skilled experts who have the knowledge and capability to adapt to your environment and work with the technology and solutions you already have in place. For example, if you've already invested in a new piece of technology such as Azure, AWS, Office 365 or Mac devices, you will want to work with a provider that has the expertise to work with those systems. The right IT support provider will want to integrate themselves into your business and truly understand the way you operate and the technology that keeps you functioning.
A provider that doesn't have the expertise to deal with your systems or the strategic leadership to improve your IT infrastructure could be doing more harm than good.
Who needs 24/7 IT Support?
Do any of these scenarios sound familiar?
An employee is working late to meet a deadline, they may run into trouble accessing the company VPN and get locked out the system, leaving them in need of urgent assistance.
A user is travelling and in a different time zone, they have a laptop issue and need support but the internal IT support team in the UK has left for the day.
A server has gone offline at 1 AM, you want it up and running again before your employees start work in the morning, but normal support starts at 8 AM.
It's Easter Sunday and you have an important email to send but it's stuck in your outbox, you need help getting the issue sorted but it's a bank holiday and nobody is available.
Businesses of all sizes face unexpected challenges, be it network problems or hardware failures. These issues need to be dealt with swiftly so as not to impact employee productivity, customer experience and daily processes. Businesses operating small inhouse IT teams may not have the resource to deal with every issue that occurs and often their time is wasted dealing with system errors leaving less time to focus on more strategic tasks.
A 24/7 IT support provider can deal with these issues for you, whilst also proactively monitoring your systems. For example in the above scenario where a server has gone offline, ideally, you will want it fixed before everyone starts work in the morning. An IT provider will pick up on issues like this often before anyone in your business has noticed, fix the issue and simply update you in the morning, causing no downtime or unnecessary panic.
The Benefits of 24/7 IT Support
There are many benefits of outsourcing IT support as highlighted in our recent blog. Below are some of the key advantages:
Affordability
The logistics of forming an internal IT team to support users 24 hours a day can be a nightmare, not to mention extremely costly. A 24/7 IT Support provider gives you a ready- formed team with the resource to help your users in real-time at a fraction of the cost.
Expertise
Extend your IT capability with access to a qualified and accredited team of engineers and experts. From IT leadership through to technical requirements you'll receive a whole host of knowledge.
Customer service
Your IT support provider will give you a single point of contact for all your IT requirements. Available 24/7, your employees and customers will benefit from better customer service with fast resolutions to any issues.
Scalability
Your 24/7 IT support will deal with any problems leaving you to focus on running and growing your business. If your business goes global you'll have the support to cover multiple time zones.
Minimise Downtime
Any IT failure can adversely affect your business, 24/7 IT support guarantees minimal downtime and ensures your employees remain productive and focused on the important tasks that keep your company profitable
Unlimited IT support
Nobody likes to be kept waiting. Most IT Support providers offer a portal and a ticketing system whereby customers can easily log cases. A dedicated helpdesk team will be monitoring these cases ensuring a fast response.
Cyber Security
In our digital world cyber attacks are an ever-present threat. 24/7 IT support providers will monitor your systems, alert you if action is required and help remediate any risk.
Conosco's 24/7 IT support
We do 24/7 IT support differently. First and foremost, we pride ourselves on our technical competence and talented team. From strategic leadership services such as vCIO, vCTO, vCISO, to Technical Account Management and accredited field engineers we take a business-led approach. Our people are passionate technologists who form long-lasting customer relationships and have a desire to see your business thrive with an IT infrastructure that's resilient, secure and future proof.
We are particularly proud to:
Deliver dedicated resources with expertise in the tech you use. For example, if your business uses Apple products our dedicated Mac Support Team speak your language and are ready to help
Provide a multitude of security services including a Security Operations Centre (SOC)
Offer clients a dedicated Technical Account Manager equipped to deal with both non-technical and specialised queries.
Our Service Level Agreement includes:
A 90% Fix SLA target although this is closer to 94%
A 90% Response SLA target (within 30 mins of receiving your case) however we currently achieve 98%
20 Seconds Average time to answer incoming calls
98% Customer Satisfaction Rate
Round-Up
Your technology is the backbone of your business, it keeps your processes functioning, your people operational and ensures your customers' needs are met. 24/7 IT Support provides your business with the services and expertise to build a reliable IT infrastructure that drives the success and growth of your business.
No organisation is immune to IT issues but as the workplace continues to digitally transform, advanced technology will present new challenges as well as opportunities. The support of a 24/7 IT Support provider will ensure you have the tools, resource and knowledge at your fingertips.
Get in touch to find out more about our 24/7 IT Support.