Written by Bianca Fani, Comms Account Manager at Conosco
In 2017 BT Openreach announced that it will be switching off its Public Switched Telephone Network (PSTN) and Integrated Services Digital Network (ISDN) in 2025, replacing them with IP (Internet Protocol) voice services.
With BT halting any new orders for PSTN and ISDN services from September 2023 and the phase-out of ISDN having started in 2020, the time for businesses to act is looming. Over the next two years, we anticipate businesses will be reviewing their telephony systems and it's important to have a plan in place ready for 2025. With this in mind, we take a look at the technologies and the options available to future proof your systems.
What is PSTN?
Public Switched Telephone Network (PSTN) is the traditional analogue telephone system—the system that enables landline connectivity. This technology was introduced during the 1800s and allows for information to be transmitted through a network of copper wires. Businesses have been using PSTN as their primary method of phone calls and fax transmissions for many years. For millions in the UK, PSTN is still the foundation of their communications, which poses a business continuity risk as the country migrates to an all-VoIP environment.
What is ISDN?
Integrated Services Digital Network (ISDN) is a circuit-switched telephone network system that was designed to allow both voice and data services to be delivered over digital lines simultaneously, using the copper wires already in place as part of the traditional PSTN infrastructure. It was launched by BT in 1986 as a means to migrate outdated landline technology to digital.
Will your business be affected by the switch off?
Any business or individual still using a PSTN or ISDN connection will be affected. Although a slow phase-out, the switch-off is underway.
Whilst the infrastructure that underpins ISDN has been significantly upgraded since its launch in 1986, the network has remained pretty much unchanged. BT has since invested heavily in VoIP (Voice over Internet Protocol), making it almost redundant to invest further in its legacy ISDN network. By converging all of their services to IP, BT will be able to focus on a technology that allows the demands of businesses to be met in the future. Unlike traditional solutions, VoIP does not run over copper lines, the only requirement is an active internet connection. In recent years we have seen massive investment nationally in high bandwidth fibre broadband and Ethernet infrastructure, capable of carrying voice and other data. While many businesses and individuals still use ISDN, some organisations have already moved away from the service, due to the emergence of IP (Internet Protocol) telephony as a natural replacement.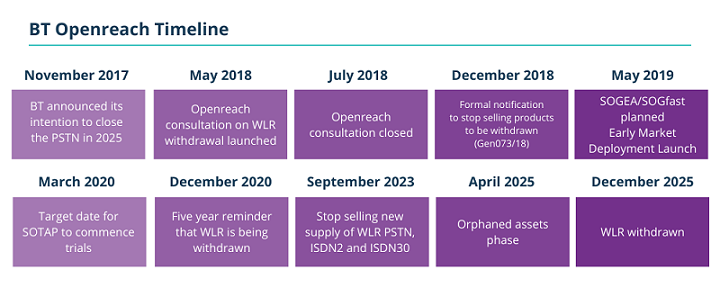 *Source: BT Openreach
Switching to IP telephony – what next?
As the switch-off deadline approaches in 2025, communications providers will be endeavouring to migrate all PSTN and ISDN services to an IP telephony solution, any businesses that fail to switch will ultimately be left without service.
There are a couple of options available when switching to IP telephony; SIP trunking or a hosted/cloud solution:
SIP Trunking
Session Initiation Protocol (SIP) is a technology that allows you to send and receive voice, video and data traffic via your internet connection. Where SIP differs from a cloud-based, hosted solution, is that your business retains an on-premise PBX (Private Branch eXchange).
For businesses that have already invested in an on-premise PBX, or just aren't quite ready to make the jump to a fully hosted solution, SIP would be the next natural upgrade to a traditional telephone system. (Just be mindful when considering future options that your current PBX is compatible in supporting VoIP – if not there could be high upfront costs. In this instance a hosted solution should be seriously considered)
SIP Trunking has numerous benefits including:
Cost savings on monthly line rental
Savings made on calls to landlines, mobiles and international destinations
Speed of deployment
Facilitates a Unified Communications strategy
The flexibility to add or remove channels as business demands fluctuate
Accommodates a surge in calls should your business experience periods of increased capacity
Improved security
Hosted/ Cloud Telephony
With a hosted solution you switch your telephony system to an entirely hosted cloud-based environment. No physical hardware is required, offering significant cost savings on upgrades and maintenance. Other benefits of hosted telephony include:
The flexibility to manage and customise your system via an online platform
Facilitates remote working with plug and play phones, softphones and apps
Access to a whole host of inclusive features that are often costly add-ons within legacy systems
Free internal calls (across multiple locations)
Easily scale your business by adding new users and services in real-time
Proactive 24/7 maintenance and support services which safeguard against downtime
Future-proofing your business
When thinking about how to future proof your telephony system it's always important to do research. There are few things to consider when deciding how to move forward and which provider to choose. Ask yourself:
Is my current PBX VoIP compatible?
Connectivity – is my internet connection good enough?
Do I need a more flexible system?
What functionality and features do I require?
At Conosco we have already started helping many of our clients make the switch from legacy systems to VoIP and fully hosted solutions. We are experts in our field and our partnerships with industry-leading providers such as RingCentral means we can tailor solutions to our customer's needs. What's more, we provide a fully managed business communications service and provide the leadership and strategic consultancy that ensures our client's technology aligns with their business goals and enables them to thrive.
For more information about our services or to discuss the ISDN/ PSTN switch off, please feel free to contact us on businesscomms@conosco.com or call our team on 020 8158 4313.