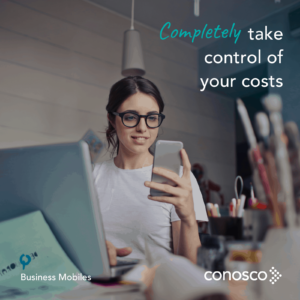 Mobile technology is the fastest growing technology of all time. With the power of connectivity, Mobile is empowering SMEs and transforming the way they work, operate and conduct business.
According to Forbes, the 25 percent of SMEs that use mobile services more intensively see their revenues growing up to two times faster and recruit talent up to eight times faster than their peers. It was also reported that in some parts of the world, more than 94 percent of SME owners use their smartphones to help manage their business.
Businesses' growing reliance on mobile phones as part of their daily running is particularly overlooked, reflected by limited data allowances or talk plans and roaming options being offered at a mark-up in comparison to their consumer counterparts. This is why organisations are increasingly seeking partnership with strategic communications solutions providers that can look after their bespoke needs.
Conosco's managed business communications service gives UK companies custom built plans that fit both organisational and users' needs. Customers benefit hugely from having:
Tailored Talk & Data Plans

Custom Roaming Options (customised to job roles)

Reliable Mobile Security & Device Management

Customised Billing & Reports

Dedicated Account Managers

Speedy Customer Service
Find out more and get in touch here.
Case Study:

This is how we are working with a leading global agency to provide them with a bespoke & managed communications service:
>>Read the full case study | >>Read client testimonial
Request a Free Consultation
Discover more about our Business Communication Services and how we can help you develop a communications strategy that delivers business advantage.
Ninja Form plugin removed, please replace with HubSpot form